April 10th, 2017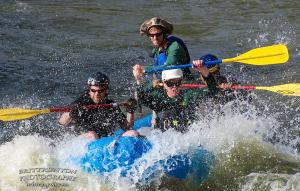 The Mother's Day Rio Grande Whitewater Festival was founded in the 1950's by Los Alamos paddle boater Jim Stretch Fretwell. After competing at Colorado's FiBark on the Arkansas River for many years, Stretch started a whitewater race closer to home on the Rio Grande in Taos County near the town of Pilar, now known as the Pilar Racecourse.

The River Rendezvous on Friday with keynote topic of stream flow outlook for Colorado and New Mexico, by Rolf Schmidt-Petersen (NM) and Patric McDermitt (CO). Dagmar Llewellyn addressed the group concerning climate change and it's impacts on the water resources in the Upper Rio Grande Basin. John Bailey, representing the BLM, and now newly appointed to manage the Rio Grande del Norte National Monument spoke of it's management plan. Then came the fun and prizes with the Thowbag Competition followed by a most delicious lunch provided by the Pilar Yatch Club Cafe. Lunch was followed with a float down the Pilar Racecourse with celebrated author and boater Paul Bauer. His book, The Rio Grande: A River Guide to the Geology and Landscapes of Northern New Mexico is a must for those celebrating life in the outdoors of Northern New Mexico.

Featured festival events on Saturday and Sunday included: Slalom for kayak, canoe and Stand Up Paddle Board (SUP); the Kayak Rodeo; SUP, raft, canoe and kayak downriver races; Mom and Child downriver race; National Migratory Bird Day at the Rio Grande Visitor Center: Dutch Oven Cook-off: Open mic-campfire tunes; Kayak Clinic and demos; Interpretive guided hike with a BLM Ranger; Mother's Day Benefit Breakfast for New Mexico River Outfitters Association and finishing the 3 days with an Apre's Race Awards and Party at the Blue Heron Brewery.